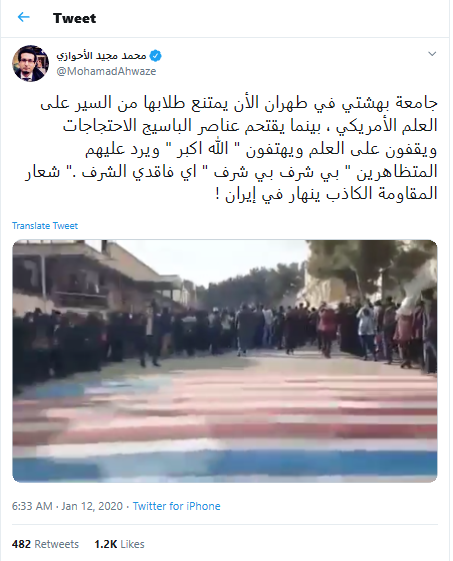 Iranian Students Risk Their Lives for…Israel
It sounds incredible, but it's true. Saturday, Iranian students gathered near the site of the former US Embassy in Tehran

to protest Iranian Ayatollah Ali Khamenei and his government's brutal policies

.
The day before, government officials had painted US and Israeli flags on the pavement, encouraging citizens to trample the images as a sign of disrespect for the two countries.
But something remarkable happened – the protestors refused to disrespect the flags. In fact, not only did the student protestors refuse to tread on the American and Israeli flags, they also loudly condemned the small handful of pro-Ayatollah demonstrators who turned out to support the failing regime.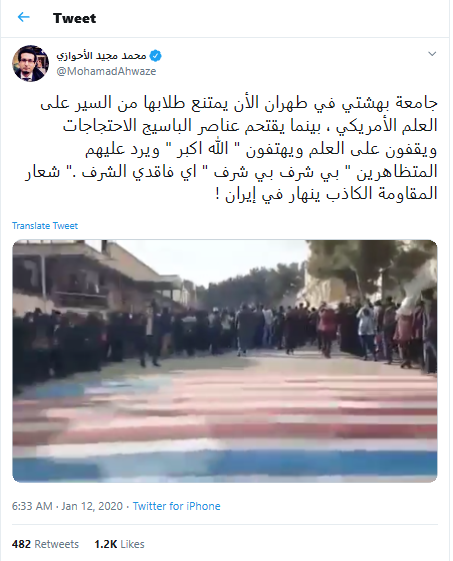 By the end of the day, both the Star of David, as well as the Stars and Stripes, were largely unmolested.
The fact is the people of Iran are not enemies of America or Israel. Prior to Jimmy Carter's presidency, Iran was a US ally committed to helping the United States protect and support Israel. But President Carter undermined that alliance, and later President Barak Obama scandalously did nothing to help the democracy seeking protestors—lest he lose his shot at negotiating a nuclear deal with Iran.
President Trump has accomplished so much in support of the Holy Land and the Israeli people. But sadly, the US Congress is another story—and you'll never guess who is fighting Trump . . .
Republican senators Todd Young, (R-IN), Susan Collings (R-ME), Rand Paul, (R-KY), and Mike Lee, (R-UT) have joined Democratic Senator Tim Kaine in supporting a War Powers resolution that will prevent the President from acting on national security threats. Known as S.J. Res. 68, the bill could hit the Senate floor for a vote next Tuesday—just before the Senate impeachment trial begins.
S.J. Res. 68 seeks to tie President Trump's hands. It puts national security at risk and gives the back of the hand to freedom-yearning Iranian citizens.
Written by Democrats still angered over their loss of the White House, the bill uses President Trump's wise decision to eliminate Iran's top terrorist Qassem Soleimani as the latest excuse for undermining the president.
President Trump's actions were absolutely legal under Congress' 2002 Authorization for Use of Military Force Against Iraq Resolution—which is still in effect. And he had ample constitutional authority, as well, as Commander-in-chief to order Soleimani's targeted killing because of the imminent threat the Iranian terror chief posed to Americans in Iraq.
In effect, the GOP-supported Senate War Powers resolutions punishes Trump for defending America and tries to handcuff him so he doesn't do it again!
S.J. Res. 68 threatens American security. And it signals Iran that American is divided and weak.
S.J. Res. 68 returns America to the Carter/Obama days of radical Islamic appeasement.
But we CAN avoid another Iran Crisis – by stopping S.J. Res. 68.
We have a choice right now – stand with our ally Israel or retreat as Iran expands its malign influence across the Middle East and continues its pursuit of an "Islam Only" world.
I hope you will stand with Israel right now by faxing the Senate and demanding they vote NO on the dangerously destructive Kaine War Powers Resolution (S.J. Res. 68).
It's outrageous that a handful of Republican senators are even considering this new anti-Trump resolution. But one thing is clear – those Republicans need to hear from you today.
You can do that right now by using CIDI's FAX CONGRESS service – just select here to STAND FOR ISRAEL, THE IRANIAN PEOPLE and PRESIDENT TRUMP! It's your way to get your message directly into the inboxes of key Senators almost immediately!
Together in Christ,


Mat Staver
Chairman
Christians in Defense of Israel